The Heschel Center Celebrates 20 Years
The Heschel Center is the pioneering Israeli organization that brought the concept of sustainability to Israel in the late 1990s. Since then, until today, it dares to challenge the prevailing social-economic system in order to bring about a more prosperous future for all.
Over the years, the Heschel Center has created concepts, influenced academia, raised issues and developed fields, produced publications and broadcasts. In addition to promoting specific concepts of sustainability, the Heschel Center worked to promote areas of activity, each on a number of levels with different types of initiatives.
The Heschel Center's impact is visible in social-environmental conferences, and in government ministries and other organizations dealing with these areas, in all of which high percentages of Heschel Center alumni are found. They testify that their outlook has been shaped, and much of their life's work has been formed, by the ideas and people they encountered in our educational frameworks.
Despite its modest size, the Heschel Center is one of the most prominent players in creating and leading the conceptual and practical aspects of environmental education and sustainability education in Israel. With the development of the Green Network, a Heschel Center inspired and supported network of hundreds of schools in Israel, education for sustainability entered the mainstream.
By spearheading initiatives, creating models, building awareness and capabilities, and promoting legislation and policy, since its inception in 2006, the Heschel Center's "Center for Local Sustainability" (CLS) has developed and promoted the entire field of local sustainability in Israel. The CLS has been instrumental in translating ideas into action, and making an impact where people live.
The Heschel Center works through networking and partnerships to create a different discourse and a paradigm shift in relating to society and environment – and especially because it does not compete with other organizations over one agenda or another – it has had the advantage of being uniquely able to connect very diverse organizations with different agendas.
The Heschel Center has always been, first and foremost, a home, a physical place to be visited, a place in which to meet new people and ideas, but it is also much more than that. Before the internet age, the Heschel Center's library was a "nerve center" and a source of knowledge and inspiration for hundreds of people, activists and students who wanted to participate in the most up-to-date discourse on environment and society.
The urgency surrounding climate change, and the need to make sweeping structural changes in order to ensure a sustainable future for people and the planet, has led the Heschel Center to take on these challenges. This has been an opportunity to translate the ideas and actions that we have been promoting locally and in civil society into research-based national policy recommendations in order to fight for systemic change, and a just transition to a decarbonized economy and society.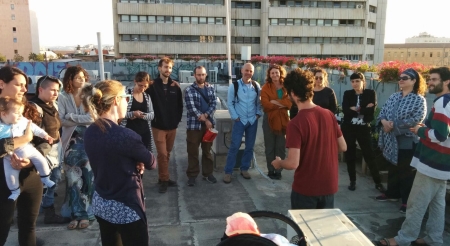 With over 350 alumni, the Heschel Fellows Program is one of the most established leadership programs in Israel, and continues to serve as a crucial component in the Heschel Center's ability to infuse the sustainability vision in Israel society.